A trent'anni dalle stragi di Capaci e via D'Amelio, questa agenda speciale intende parlare ai ragazzi raccontando loro la storia dei grandi uomini che hanno combattuto contro la mafia sacrificando la propria vita per un'idea di giustizia.
Illegal – nella doppia versione nera e rossa – non è un semplice diario, ma è un'agenda tascabile ricca di contenuti extra attraverso i quali propone riflessioni, quiz e azioni concrete per diffondere la legalità.
Un prodotto unico nel suo genere che si pone l'obiettivo di coltivare la memoria e diventare un oggetto di quotidiana consapevolezza e impegno civile attraverso le storie narrate dall'App NOma – Luoghi e storie NOmafia (https://nomapalermo.it/), nata da un'idea di Tiziano Di Cara con coautore Piergiorgio Di Cara.
Questa agenda ci aiuta a capire perché non sei un cretino se rispetti l e regole. E quanto dobbiamo essere grati a chi ha sacrificato la vita per farle rispettare – Pif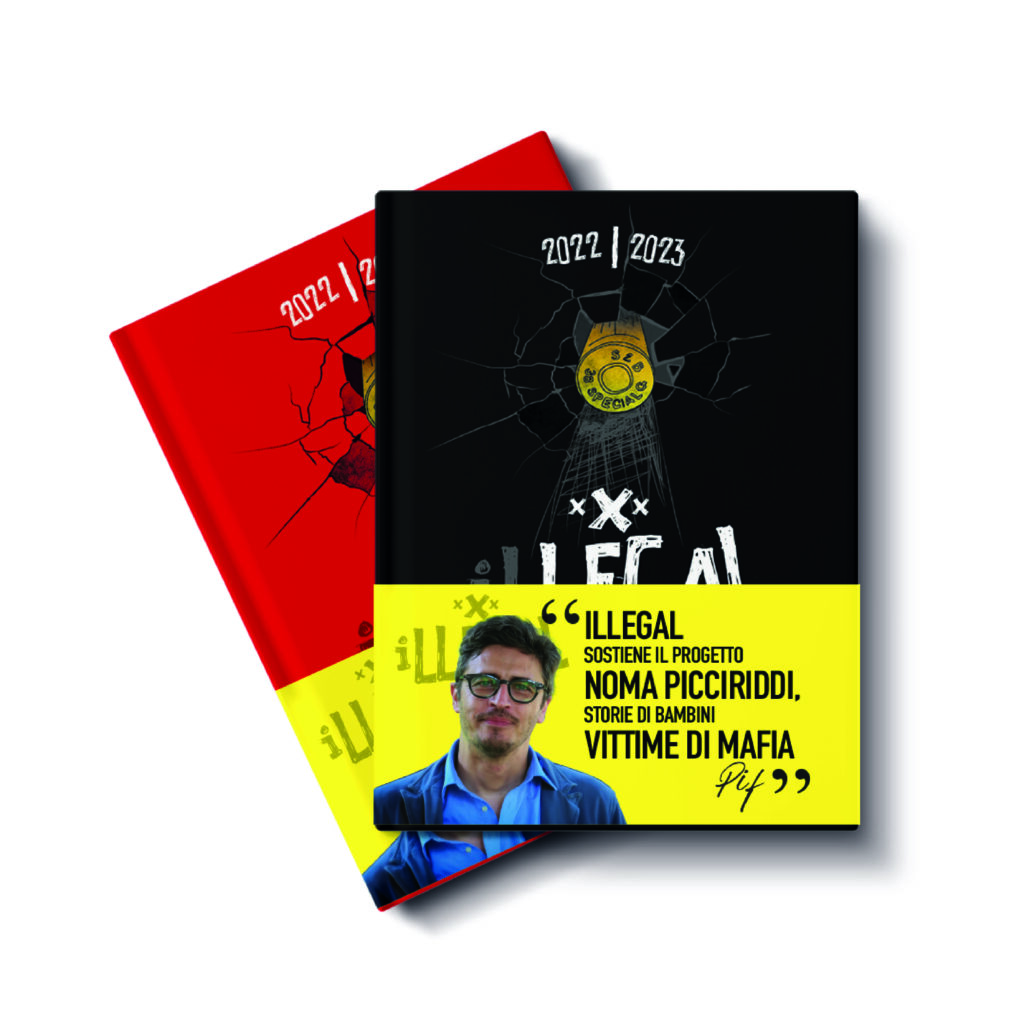 Parte dei proventi delle vendite saranno destinati a Sulle nostre gambe, l'associazione culturale composta da Pif, Emanuela Giuliano, Roberta Ianni e Tiziano Di Cara che ha ideato e realizzato l'app NOma.
Illegal verrà presentata in anteprima al Salone del libro di Torino il oggi  alle ore 15:30 nella Sala Oro con una vera e propria lezione sulla legalità con PIF e Marco Lillo.
L'agenda della legalità dal 21 maggio in edicola e dal 26 maggio in libreria e nelle migliori cartolerie edita da PaperFirst in collaborazione con NOma, Pigna e Gruppo Spaggiari
Thirty years after the Capaci and Via D'Amelio massacres, this special agenda intends to speak to young people by telling them the story of the great men who fought against the Mafia by sacrificing their lives for an idea of ​​justice.
Illegal – in the double black and red version – is not a simple diary, but a pocket diary full of extra contents through which it offers reflections, quizzes and concrete actions to spread legality.
A unique product of its kind that aims to cultivate memory and become an object of daily awareness and civil commitment through the stories narrated by the NOma App – Places and stories NOmafia (https://nomapalermo.it/), born from an idea of ​​Tiziano Di Cara with co-author Piergiorgio Di Cara.
This agenda helps us understand why you are not a jerk if you respect the rules. And how grateful we must be to those who sacrificed their lives to enforce them – Pif
Part of the proceeds from the sales will go to Sulle our Legs, the cultural association made up of Pif, Emanuela Giuliano, Roberta Ianni and Tiziano Di Cara who designed and built the NOma app.
Illegal will be previewed at the Turin Book Fair on today at 15:30 in the Sala Oro with a real lesson on legality with PIF and Marco Lillo.